Most people and businesses conduct transactions online and require a secure electronic signature. Here is a collection of the five best reasons to use online signature practices that even the most experienced users neglect.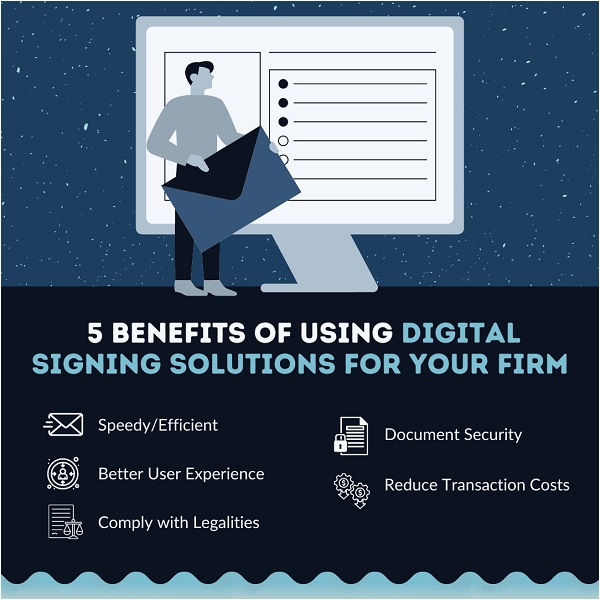 #1 Speedy/Efficient
Going digital when you sign your documents can save you a lot of time since it is straightforward. Most businesses require many signatures from various people during the sales process. Using e-signatures in your organisation might be the difference between success and failure.
#2 Better User Experience
Document signing has never been more straightforward when using digital signing solutions. The entire procedure of signing and sending the document back takes less than two minutes. Most solutions providers offer adjustable and customisable user interfaces. It allows clients to have unique experiences and simplify the document signing process.
#3 Comply with Legalities
Digital signature technology incorporates defined laws in every country and industry. These contractual principles lay the groundwork for digital signing solutions providers and ensure signature integrity in the event of a legal dispute. Furthermore, most digital solutions verify authenticity necessitates identification through two-factor authentication or even through ID checks.
#4 Document Security
The combination of two elements, authentication and ID checks, provides a high degree of security for accessing and signing a digital document or certificate. This encryption ensures that no one else can alter the files after signing.
#5 Reduce Transaction Costs
A digital or online signature is more efficient, friendly, and compliant than a traditional paper document signature. Automating the electronic signature process can reduce the cost consequences of human errors, like incorrect signatures or document loss. Electronic signatures ensure everything is in order, preventing issues and associated costs. The cost reductions on paper, scans, copies, postage and parcels may appear minor. However, they can add up to more significant savings in the long run.
The decentralised platform Dedoco offers to enable digital communication to track and sign essential papers. They intend to assist in cost reduction and the replacement of paper-based operations. Dedoco version control lets you manage several document versions of agreements while maintaining a clear audit record of changes and advancements throughout time.
In most nations, enterprise platforms must collect both electronic and digital online signatures. It should work with identifying systems to boost confidence, authenticity, and validity in identity systems, whether public or private. You can draw or type when you post your work to Dedoco. Visit Dedoco's website to learn more about the firm and its digital signing solutions.