The divorce process can be long and stressful, especially if it's a contested divorce, but knowing what steps you'll need will make the process seem less daunting and complicated.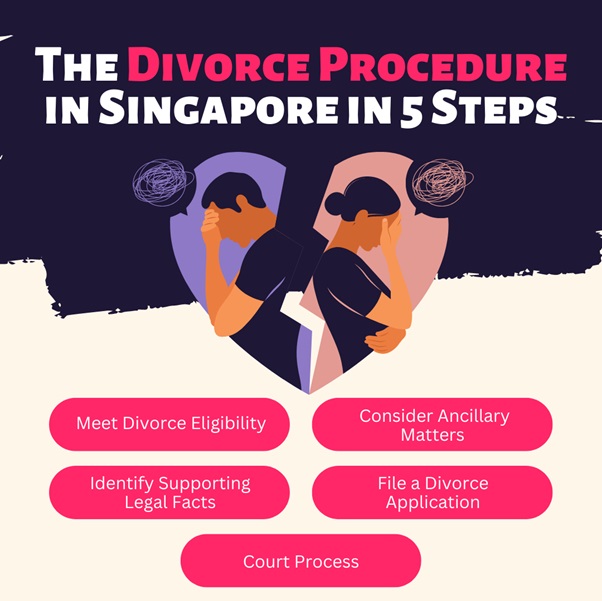 1. Meet Divorce Eligibility
Before you start the divorce procedure in Singapore, see if you meet the eligibility requirements first. A couple can only get a divorce if they have been Singapore citizens and married for at least three years. That means you need to obtain special permission, called leave of court, to divorce your spouse before the three-year mark. You'll also need to be married under civil law.
2. Identify Supporting Legal Facts
The court will only approve of divorce in Singapore if they are considered legal facts and the victim provides sufficient proof. Examples of legal points include wrongdoings such as adultery, desertion, separation, and unreasonable behaviour such as abuse.
3. Consider Ancillary Matters
Uncontested divorce in Singapore requires the couple to agree on all ancillary matters. The essential ancillary point to discuss is the care arrangements for any children. These arrangements include custody, visitation rights, and financial maintenance. Other ancillary matters include financial support for the wife or the incapacitated husband, the distribution of assets, and who will be paying for the divorce proceedings.
4. File a Divorce Application
After determining all these matters, it's time to file for a divorce. In Singapore, the divorce process will change depending on the outcome of the previous three steps. If the couple has agreed to every step and taken care of all ancillary matters, they will have an uncontested divorce. However, suppose the couple cannot agree about a stage of the process. In that case, the divorce application will proceed to a contested divorce.
5. Court Process
The court will schedule a meetup date after the divorce application. In a contested divorce, this might be a status conference where one side of the couple files a defence while the other files a counterclaim. You'll also need to attend a case conference and a contested hearing to determine the result of the divorce. Meanwhile, in an uncontested divorce in Singapore, the couple is not required to participate in the hearing. If the court grants the divorce, the couple must apply at CrimsonLogic Service Bureau to extract the Interim Judgement. Three months after that, they'll finally be able to extract the Certificate of Final Judgement.
Do you need a divorce lawyer in Singapore? Contact Lie Chin Chin Family Practice Team, a team of lawyers specialising in Family law ready to handle any situation. For more information, contact Lie Chin Chin today.