Regardless of the reason, the closure of a long-term, committed relationship and separation can cause a massive disruption in your life. It can trigger intense emotions, such as depression, stress, misery, self-doubts, grief, anger, and the like. Divorce is a lifetime struggle, not just for the separating couples but also for the kids involved. It is why many people seek family counselling in Singapore before fully deciding and going their separate ways.
Many therapists and family service centres in Singapore offer counselling sessions nowadays, including divorce. While going through a tough time can be draining and demanding, you may consider attending divorce counselling. If you're keen to learn more about divorce counselling, below is a list of everything you should know.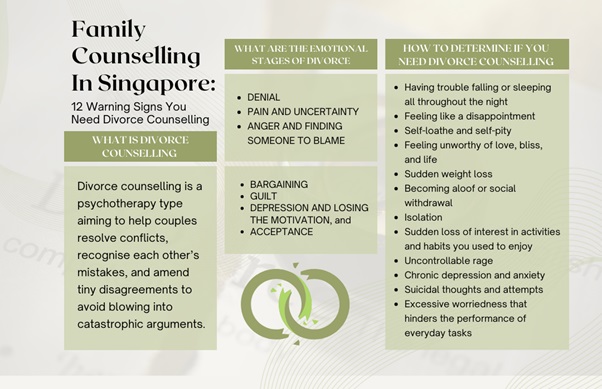 WHAT IS DIVORCE COUNSELLING
Divorce counselling is a psychotherapy type aiming to help couples resolve conflicts, recognise each other's mistakes, and amend tiny disagreements to avoid blowing into catastrophic arguments.
Ultimately, the primary purpose of family service centres in Singapore is to help married couples to address the situation before it turns into separation or a more grievous instance. This therapy aims to help identify, deal with, and work together in resolving family and relationship issues.
WHAT ARE THE EMOTIONAL STAGES OF DIVORCE
Many individuals are getting divorce counselling because of the several stages of the mourning process. Listed below are the emotional stages family service centres in Singapore can help you deal with:
DENIAL
PAIN AND UNCERTAINTY
ANGER AND FINDING SOMEONE TO BLAME
BARGAINING
GUILT
DEPRESSION AND LOSING THE MOTIVATION, and
ACCEPTANCE
HOW TO DETERMINE IF YOU NEED DIVORCE COUNSELLING
Uncertainty is one reason people do not seek help from family service centres in Singapore. If you're still unsure whether to get divorce counselling or not, these 12 symptoms can help point out if you need one. These signs can range from mild to severe encounters.
Having trouble falling or sleeping all throughout the night
Feeling like a disappointment
Self-loathe and self-pity
Feeling unworthy of love, bliss, and life
Sudden weight loss
Becoming aloof or social withdrawal
Isolation
Sudden loss of interest in activities and habits you used to enjoy
Uncontrollable rage
Chronic depression and anxiety
Suicidal thoughts and attempts
Excessive worriedness that hinders the performance of everyday tasks
HOW CAN DIVORCE COUNSELLING HELP
Family service centres in Singapore will serve as a guide and companion through this challenging, uncertain time. They will help you better understand everything so you can move forward more positively and healthily.
Ready to give divorce counselling a try? Check out PPIS and its services on its website today.