The future is here. Flying and electric vehicles are now making headlines one after another. Before the current technology officially embraces the former, everyone should adapt to the use of an electric car and its charging process. Based on a BBC report, electric vehicles will take over soon, probably around 2035.
For the past few years, many people have been purchasing electric cars, so the popping up of EV charging stations in Singapore is not surprising. Like gasoline stations, a charging station is where electric car owners charge their vehicles, like refuelling cars with diesel.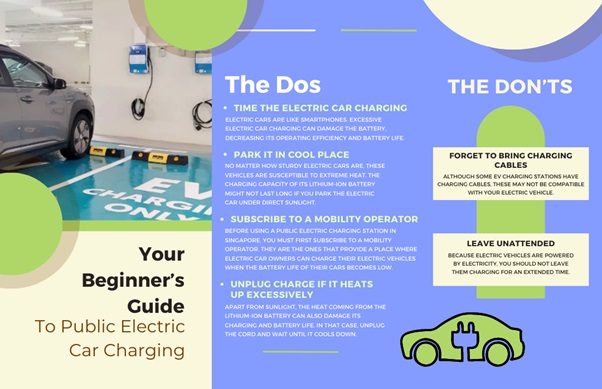 The Dos
1. Time The Electric Car Charging
Electric cars are like smartphones. Excessive electric car charging can damage the battery, decreasing its operating efficiency and battery life. The only way to prevent this from happening is to set a timer to remember when you should unplug the cord of the electric car.
2. Park It In Cool Place
No matter how sturdy electric cars are, these vehicles are susceptible to extreme heat. The charging capacity of its lithium-ion battery might not last long if you park the electric car under direct sunlight.
When parking your electric car in a public parking lot, you should park it under a shade. That should help protect the lithium-ion battery.
3. Subscribe To A Mobility Operator
Before using a public electric charging station in Singapore, you must first subscribe to a mobility operator. They are the ones that provide a place where electric car owners can charge their electric vehicles when the battery life of their cars becomes low.
4. Unplug Charge If It Heats Up Excessively
Apart from sunlight, the heat coming from the lithium-ion battery can also damage its charging and battery life. In that case, unplug the cord and wait until it cools down. Plug it again properly to avoid it heating up excessively.
The Don'ts
1. Forget To Bring Charging Cables
Although some EV charging stations have charging cables, these may not be compatible with your electric vehicle. If you intend to use a public electric car charging station, you must bring charging cables.
2. Leave Unattended
Because electric vehicles are powered by electricity, you should not leave them charging for an extended time. Otherwise, the battery may overcharge, causing sparks to fire.
If you have not partnered with an EV charging mobility operator in Singapore, contact SP Mobility at +65 6916 7799 or leave a message on their website if you are interested in taking advantage of their EV charging stations.